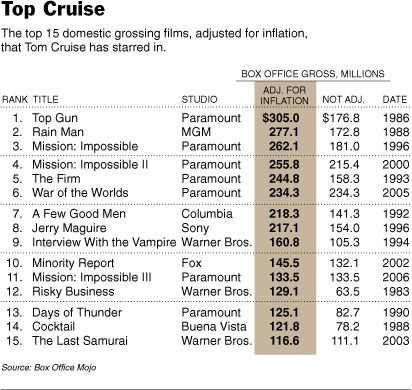 NY Times 這篇文章主要是說明為何 Paramont(派拉蒙)結束了與 Tom Cruise 14 年的合作關係。

內容提及,主要是對 Tom Cruise 拿了過高的酬勞、【不可能任務Ⅲ】首週票房不如預期以及阿湯哥最近失常的言行(Oprah Winfrey 的節目上在沙發上大跳;公開發言反對精神病學與他的宗教 - Scientology),Paramont 感到不耐,於是終止了合約。此外,文章也提到片商最近對某些大牌明星(如 Mel Gibson, Lindsay Lohan)脫軌行為的反制。

不過這篇文章最吸引我的還是阿湯哥從影來的電影排行(這些排行有計入通膨,所以較為客觀),其中像【Mission ImpossibleⅡ(不可能的任務Ⅱ)】與【War of the Worlds(世界大戰)】這二大爛片還能入圍他的前 10 賣,而我及欣賞的【Vanila Sky(香草天空)】卻連 15 都沒進入,真是有些扯。不過,倒有看到我最喜歡的【Top Gun(捍衛戰士)】【Jerry Maguire(征服情海】與【Minority Report(關鍵報告)】。

我還蠻欣賞阿湯哥,只不過因失禮的事而產生負面的連鎖效應,真有些為他可惜呢!
---

Fired or Quit, Tom Cruise Parts Ways With Studio
August 23, 2006 By DAVID M. HALBFINGER and GERALDINE FABRIKANT
LOS ANGELES, Aug. 22

Citing Tom Cruise's yearlong metamorphosis from pure box-office phenomenon to pop-culture punch line, Viacom's chairman, Sumner M. Redstone, said Tuesday that Paramount Pictures was ending its 14-year relationship with the actor's production company.

Mr. Cruise's representatives insisted that they had not been fired but instead had quit and had already lined up $100 million in financing to produce movies on their own.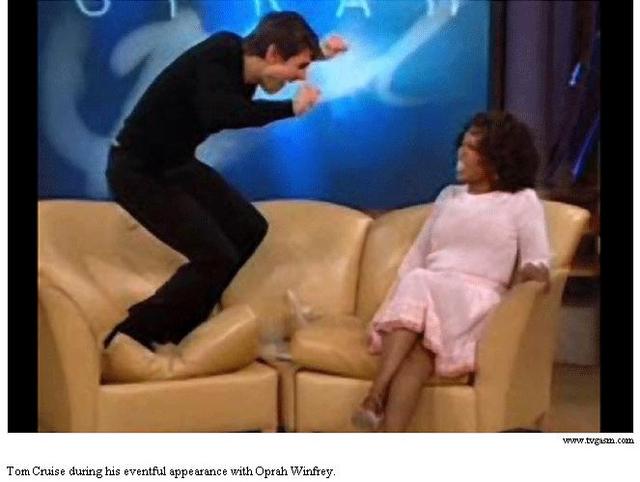 Either way, the parting of the ways was anything but amicable. And it came as the latest sign that the media conglomerates that control Hollywood are growing impatient with the megastars who earn the highest salaries.

Last year, Mr. Cruise seemed to sprout cracks in his megawatt-smile facade: jumping up and down on Oprah Winfrey's couch to declare his love for the actress Katie Holmes; assailing Brooke Shields for taking prescription drugs to treat postpartum depression; and speaking out publicly against psychiatry and for his religion, Scientology.

Mr. Cruise's third installment of the Mission: Impossible series has earned nearly $400 million worldwide and could earn half again that much from DVD sales. But its weak opening weekend in May left Paramount executives believing that the negative attention and mockery of Mr. Cruise had hurt the film. Worse still, Mr. Cruise's rich chunk of the profits could leave the studio barely breaking even.

After weeks of negotiations to extend a production deal, Mr. Redstone said Tuesday that Paramount had given up.

As much as we like him personally, we thought it was wrong to renew his deal, Mr. Redstone told The Wall Street Journal, which first reported the studio's decision on its Web site. It is recent conduct has not been acceptable to Paramount.

One person who had been briefed by Viacom executives said the studio did not want to renew the contract for a production deal that had been reported to cost as much as $10 million a year. It was a huge reduction in the size, according to the person, who spoke on condition of anonymity. The issue was the cost of his overhead and his executives. All the studios are getting out of these kinds of relationships.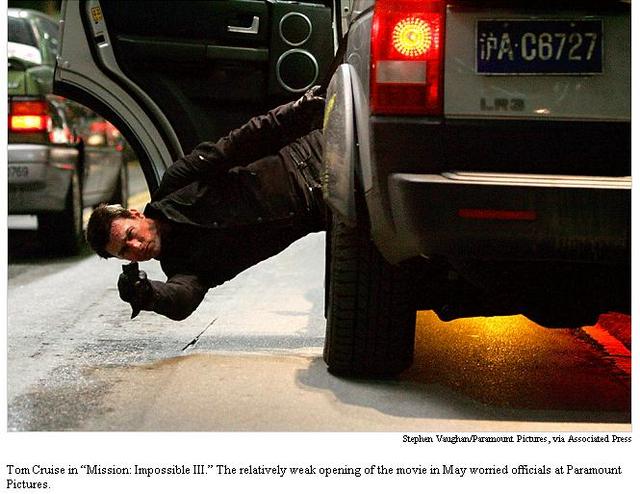 But Paula Wagner, Mr. Cruise's partner in Cruise-Wagner Productions, said in an interview Tuesday that she and Mr. Cruise had, sometime in the last few days, told their agents at Creative Artists Agency to inform Paramount that they were terminating the contract talks.

Ms. Wagner said that she and Mr. Cruise had already obtained commitments from two hedge funds, one in New York and one in Los Angeles, for $100 million in revolving credit to make movies, and that they had begun looking for a new distribution deal.

This is something we've dreamt of, to have an independently financed production company, where we can decide the films that we make, from high-concept to more personal pictures,she said. To think we're in the forefront of a trend.

As for Mr. Redstone's allusion to Mr. Cruise's conduct, Ms. Wagner fired back, have no answer for a stupid statement. She speculated that Mr. Redstone was trying to save face, having learned from Wall Street chatter of Mr. Cruise's hunt for alternative financing.

A spokesman for Mr. Redstone, Carl Folta, scoffed at Ms. Wagner's talk of new financial backers. Did they give you a name??he said.

About Mr. Cruise, Mr. Folta said, it's a business decision, and it's based on his behavior.

Ms. Wagner said through a spokesman that the hedge funds's names would be announced soon.

It is still unclear how Mr. Cruise's agency, Creative Artists, will respond to Paramount's public slap at one of America's most visible stars. The agency is the most powerful in Hollywood, and a decade ago a studio would have risked war by publicly denigrating a client like Mr. Cruise.

Rick Nicita, Mr. Cruise's agent and Ms. Wagner's husband did not respond to a call for comment. A spokesman for Creative Artists did not immediately respond to a request for comment.

Eric Weissmann, a Hollywood lawyer since the 1950, said that what was most surprising about the Paramount-Cruise split was that the studio could simply have decided not to renew the contract. They don't have to give a reason, and to go public is highly unusual, he said. This is not a way to get Tom Cruise to cut his fee down. This is cutting the ties.

While Paramount's decision was a shock to the Hollywood status quo, the way in which it was revealed was another sign that movie studios are playing rougher with stars they once coddled, one senior movie studio executive said.

Most recently, ABC canceled a production deal with Mel Gibson's company for a mini-series about the Holocaust after he made anti-Semitic statements while detained for drunk driving. And the head of Morgan Creek Productions wrote a scathing letter scolding the actress Lindsay Lohan for unruly behavior during a movie shoot; the letter was quickly leaked to the news media.

To think the press has become the weapon of choice for these people, said the studio executive. These companies are sick of being pushed around. This is indicative of a huge paradigm shift in the industry in terms of what constitutes a star and how much power a star has.

David M. Halbfinger reported from Los Angeles for this article and Geraldine Fabrikant from New York.Allison Hope Weiner contributed reporting from Los Angeles.