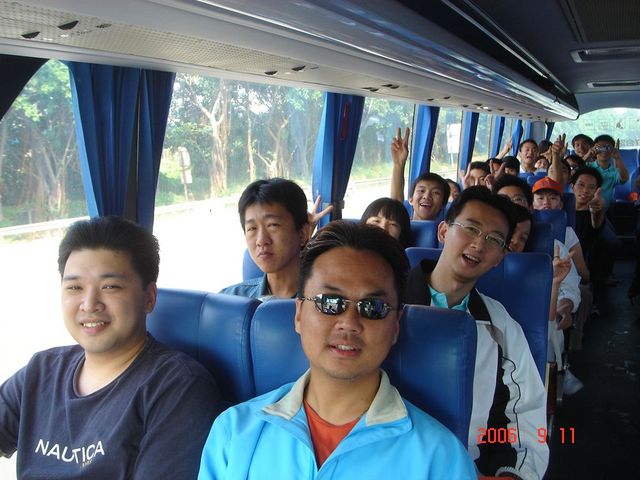 一月七日(日)晚上八點,坐上了泰航飛往台北的飛機,告別了東莞。

這次的離開,也算是正式結束了與 Jason 和 Gary 的合作,結束的原因主要是對這兩個人的不信任。

這段時間相處下來,發現 Jason 謊言處處,不但推翻了先前對薪資的承諾,尤有甚者,公司的帳務不清,更誇張的是,最後還一步步霸佔了我們的股份(註 1)。此外,Jason 還喜歡在背後中傷曾經幫助過他的人(註 2)。對於這種沒有誠信、忘恩負義的人,實在很難讓人再與他繼續合作。

自從與 Jason 合作後,才慢慢發現他的聲名狼藉,不但他美國的員工如 Michael,就連他的合作夥伴 Jerry,以至於他的親表哥 Robert,都對他的為人給了很低的評價。
此外,我也很不喜歡 Jason 所塑造的企業文化:專斷獨行、推功諉過、苛薄員工。

舉例說明,Jason 常亂下指令,而這種決定是常在未詢問其它幾位管理者,不了解狀況下的產物,也因此,營業的運作上常有錯誤的決策。例如手機被退貨的原因主要是我們給了太爛的免費手機 Sanyo 3100 或 Samsung A640,但他卻總是認為是 Supervisors 沒確認好訂單,除了發飆要開除 Sun 外,仍要我們繼續推免費手機(Sanyo 3100 與 A640),但按照著他的話,事後被退機時, Jason 又說是訂單沒確認好。對於他這種滿口歪理以及推諉卸責的行為,真的是讓人失望。
再者,Jason 常常言行不一,最明顯的就是他告誡大家不要涉足不良場所,但他卻背著身在美國的老婆,在大陸包二奶,甚至讓二奶管帳(二奶是 Jason 在富盈認識的酒店小姐)。而 Jason 的跟班小弟 Gary,也是很會亂搞;常常把業務丟給我們後,就在飯店與酒店小姐亂搞,真的是很離譜。更誇張的是,Gary 甚至會看上公司男性主管(Sky)的女朋友(Syria)後,再私底下發動追求攻勢,若是真心的也就算了,但偏偏 Gary 都是擺明了要玩人家而已,真的是很畜牲!

最後一點,也是價值觀上的根本歧異,那就是對人的態度:Jason 不只一次的傳達『對員工不要太好』的觀念給我們。實際的作為上,他不但將薪資佣金壓得極低,更無恥的是,他常常出爾反爾,造成員工抱怨,例如原先的『每月之星(業績最好者)』的獎金,原先是說 1000 元,但隔了一天,卻又講是 500 元,而最後發出時,竟是 250 元!而類似的事,在公司是屢見不鮮。此外,我也覺得 Jason 與 Gary 有歧視大陸人的感覺。

幾個原因下,我決定結束與 J&G 的合作。於是在五日上完夜班後,一月六日(六)的早晨,我與 Sprint 團隊到真功夫吃早餐,在好幾位學員的淚水中(尤其是 Lauson 的淚水更是讓我難受),我結束了 TMS 的工作。

我常覺得,失去了彼此的信任,什麼都沒有價值了。TMS 目前雖有賺錢,但我覺得如果失去了人與人間的信任,最終也必將失敗,預見到這種情形,我最後決定離開。

別了,東莞 2006!
連結:《小店學堂》系列文章
---

【註 1】
2006-05-11, Phil to Jason,
2006-05-12, Jason to Phil, (Jason's reply is underlined.)


We're your partners, not your employees !

Dear Jason,
For the past days, there're something in mind I've got to say, that we should be your partners, not your employess. If we all agree with this, then we can talk.

always 'Jason says'
Truly, when communicating with you, you always say 'let's me finish first', after you finish your words, it seems you don't ask our opinions. And sometimes even we have the chance to say something, you'll interrupt us soon and reply:' that's not important.' This makes us very frustrated, sometimes even angry with your attitude, not only autocratic, but also arrogant. Again, please remeber: 'We're your partners, not your employees.' (Honestly, we even don't talk to our employees this way.)


word is word
I believe we all think promise is very important, but if somebody break the promise, there must be something wrong or somebody forget something, of course, I believe that nobody intends to cheat on others.

First, it's about the share of the company, I remember this Chinese New Year, while you're in Taiwan, you're talking about if we run a new company, at least we can get the 50% share, if we want more, then we can talk; Mark hear the same thing. So, that is why we want to fly to the U.S. to have the training, but later on, when your friends say there gonna be a new company in Shanghai, you said we can get 25%, but without our permission, you jump to another topic. This is the way you talk, you ask people to accept something but without their permission. and you always talk this way. Truly, I feel this is the way how you negotiate, but that makes me very upset.


(Jason)
IT HAS ALWAYS BEEN 25% FROM THE BEGINNING. HOWEVER, IT WILL BE UP TO 50% AFTER THE INTIAL PHRASE OF 25-30 REPS AS WE HAVE SPOKE. THIS IS THE WAY WE ALWAYS WORK WITH OTHERS. YOU HAVE COME TO ME ONCE IN CHINA AND ASKING TO CHANGE OUR PARNERSHIP TO VENDOR. AGAIN, I DID NOT CHANGE THE STATUS. I HOPE WE HAVE THIS RESOLVED AS WE HAVE TALKED ABOUT IT IN CHINA. KEEP IN MIND, WE HAVE NOT DONE ANYTHING YET OTHER THAN RENT THE OFFICE AND APARTMENT.

Shanghai is the same way, they are only getting 25% if they are interesting to get into the business with us. I am only offering to you all to manage it and get extra 25% interest in additional call center. If it will take us too long to start dongquan, this might be an alternative. Again, this has nothing to do with dongquan. Dongquan is our own place, the key is to have you guys up to 50% share as soon as we can. Keep in mind, we are already bearing lots cost here for starting this initiative such as upgrading phone service, increase our client's needs, increase our spending budget and others…….


generous to friends, but mean to partners
As your friends, I think you're really a nice and generous person, but as your working partners, I think you're too mean. Take yesterday's talk for example, you say the apartment, only I and Mark live there, should make the rules, and I'm very upset with this. Because I never hear this happen on any Taiwan's managers, not to mention U.S.'s managers. Can you give me a suggestion where you learn this from? What do you think if I tell you: 'Hi, Jason, I think you should make the rule for your accommodation.' If you feel very bad, ya, that's how I feel yesterday.


(Jason)
WE HAVE TALKED ABOUT SETTING UP THE RULE BEFORE. IF THE COMPANY IS OFFERING THE ACCOMMODATION, I THINK IT WILL BE HEALTHY IF WE TREAT IT AS A DORM. JUST LIKE IF WE WILL BE DOING IF THE COMPANY OFFER ACCOMMODATION TO REPS. KEEP IN MIND, THIS IS TO AVOID ANY FURTHER ISSUE DOWN THE ROAD SUCH AS HAVING EACH OTHERS FAMILY OR FRIENDS STAYING OVER. ON THE OTHER HAND, IF IT IS A PERSONAL APRTMENT, IT WILL BE WRONG WITH ANY RULE.


Moreover, you ask us to leave the suite, the largest room of the apartment, empty because there will be high-rank manager may sometimes fly to Dongguan, of course we know who's the 'high-rank'. Don't get me wrong, I didn't mean to compete for the suite, but we will stay all year long there while the 'high-rank' might come from time to time. Besides, the apartment is mainly for whose usage? To my astonishment, what you said not only trespass the norms of management, but also impair the trust of partners. Now I'm still wondering, how can you say such words? that's really too mean.

Similar things happen many times, Again, we're your partners, not your employees.


don't take advantage of us without communication
You're graduated from the business school, and I believe you firmly know the rights of everyone. Just like you, we all learn the program of MBA in Taiwan, so we know some. As a result, while you talk about the first 3 month without salary, actually, this the first I hear of things like this. Because we all know the rights of shareholders and managers should be separated, so when the managers start to run the company, then the company should pay.


(Jason)
WE ARE TREATING YOU AS A PARTNER, THIS IS WHY NEVER ONCE I TALKED ABOUT MY SALARY. I AM NOT A RICH GUY AS YOU THINK I AM. I AM SPEND LOT OF PERSONAL MONEY DURING CHINA TRIP SINCE NOT ALL ARE BUSINESS RELATED. OR I WILL NOT BE BARGINING ABOUT THE SEA FOOD WE EATE IN QUANZHOU. WE STILL DO NOT KNOW THE COMPANY IS GOING TO MAKE MONEY IN TWO MONTHS. HOWEVER, PLEASE REFREASH YOUR MEMORY. I AM THE ONE THAT SAYING BOTH OF YOU SHUOLD GET PAY AFTER 2ND MONTH BECAUSE I WAS SENSTIVE TO EFFORT THAT YOU ARE PUTTING IN. TRUST ME, I HAVE PROACTIVELY PAYING IN US, CHINA OR TAIWAN. I AM SENSTIVE TO EVERYONE'S FINICIAL NEEDS. WE JUST NEED TO COMMUNCATE MORE. THERE ARE MANY WAYS WE CAN WORK THIS OUT. WE JUST NEED EVERYONE TO BE ON THE SAME PAGE AND MEETING ALL OUR AGENDA. EVEN WITH A CAR, IT WILL BE GREAT FOR THE CONVIENCE OF EVERYONE AT THE BEGINNING. MAYBE FOR FEW MONTHS UNTIL EVERYONE CAN GET THEIR OWN TRANSPORTATON. IT IS NOT ABOUT MY NEEDS. I HOPE YOU UNDERSTAND IT.


But we all know in the beginning, the company may have not so much money, of course Mark & I can comprehend that. So we agree that we can take alternative ways to solve this, such as we book the salary at first till the company makes money or we can have less at the first. But that doesn't mean you can ask us to accept the terms that doesn't even hear of. You said we have agreement, but actually 'NO', let me remind you that your so called agreement is you once talked to us we should work without pay for 2 months(that time you say 2 months, this time 3 months, I remember clearly) , but again, without discussion and our permission, you jump to another topic to force us to accept this. And if you call this agreement, I really can't accept. Let's forget this and return to the basic of the issue, what's the really right thing? We can ask lots of learned people and let them tell us what's right if we don't have consensus.

Not only this, there are still lots of things about our rights you seem to forget. I and Mark are too gentle to remind you that the rights we should have, but it seems you just don't care. We're really tired of talking all of these stuffs, but what makes you seem so careless about that? You're such a rich person and what makes you so stingy to your partners? at least we should have the average standard, if lower than average standard, at least you should communicate with us and then ask for our permission, not force us to accept that!!


(Jason)
I AM SORRY IF YOU DO FEEL THIS WAY. AS PARNTER, WE WANT TO USE THE LEAST AND MAKE THE MOST OUT OF IT. THE BOTTOM LINE IS TO BE PROFITABLE. KEEP IN MIND, THE PHONE SYSTEM EVENTUALLY IS GOING TO COST US LOTS OF MONEY. WE ARE SIMPLY USING TEMPORARY SOLUTIONS. THIS IS WHY WE NEED TO SAVE AS MUCH AS WE CAN UNTIL THE COMPANY TURN POSTIVE INCOME. HOWEVER, PLEASE MAKE SURE WE COMMINCATE ALL THE NEEDS. THIS IS WHY I HAVE ASK YOU TO E MAIL ME THE TO DOO LISTING.


still too many misunderstanding
There're still so many misunderstanding that I can't figure out, because we never talk. The first time I see you, I really feel you're a great guy, but gradually, I found there are so many things I couldn't understand. You're quite a smart guy, I & Mark may not, but we read a lot and that is why we feel there're so many things wrong there.


(Jason)
CALL ME IF YOU HAVE ANY MORE MISUNDERSTANDING. MARK CALL ME ALL THE TIME. THIS IS WHY I SAID, STOP THE "MARK AND I " KIND OF PHRASE. JUST CALL ME AND ASK ME IF YOU NEED ANY CLARIFICATION.


Please remember, we're your partners, not your employess. and please treat people, including your partners and even employees, nice and gentle like what you do to your friends, and people will love you from the bottom of their heart.

ps. BTW, I've something to do in Taiwan and cannot make the 15th trip this time.


(Jason)
I HOPE YOU CAN MAKE IT. YOU ARE A BIG PART IN WHAT WE NEED TO DO IN CHINA. WE NEED YOU TO BE PART OF THE TEAM TO MAKE IT WORK…. AND WORK WELL.
---

【註 2】
2006-07-30,
Jason to Gary, Phil, Howard & Mark:

The key is to keep it sample and continue work on it the best we can. Keep in mind; we are only in our second month of the new call center. And operation has only been on lthe phone for about one month. There are lots of thing we want to do, how ever we should continue to be at our own pace. It is impossible to be or have benefit of other more established business in China. We do not need to compare to others. However, we will continue to work on it to make it better environment. We just need to worry about our won responsibility and trusting other to do their job.

Operations will do their work to improve, training will continue to improve, HR / communication / support will continue get better sales and better people. I will continue on our business planning. Go back to our first system meeting in Dong quan, I told all of you that we might not see each other in month to come. However, we must each progress in our entire department. If we can continue to do so, we will go a long way. Step one, we really need to cut down on the unnecessary hangout or gathering at KTV and bad habit that we got from Brother Jay's office. We are way ahead of them in terms of running a business. There is not really any thing to learn from. If anything, should be some PR relationship. LET ME ASK YOU, WHAT HAVE YOU LEARN BY GOING OUT WITH THEM. I AM BEING DIRECT AND FRANK. I HOPE YOU KNOW WHAT I MEAN. Brother is the one that like to call us and getus out. Because there is lots of thing they can learn from us. We need to have our own identity. Let's keep our living sample. You will see progress quickly.


Jason